Retailing In A Road Construction Zone
Life is good. The store looks great, inventory is just right, and customers are spending money. As Mr. Rogers would say, "It's a wonderful day in the neighborhood." Then it starts – downtown renovation.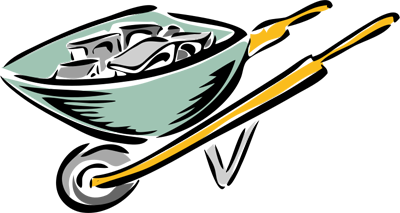 More business has been lost in the name of progress than any other plague known to man. Retailers can have been running successful businesses for years, but when the bulldozers and the jackhammers arrive outside the door, their sales plummet, customers abandon ship and retailers panic. But it doesn't have to be that way. With careful planning I have known stores who have turned their construction projects into profitable promotions. It just takes a little creativity to twist this retail lemon into a thirst quenching sales campaign.
Project the worst possible scenario.
Mark your calendar for the days when the streets will be totally blocked or the front sidewalk completely destroyed. It may prove less stressful, less expensive and more sensible to close the doors for that short period. Plan vacation periods or give your staff the time off with pay and tell them you expect them to give double-duty efforts later when you have the re-opening rush.
Treat customers extra-special during these trying times. Realize they are probably driving through gravel, dodging ladders, and perhaps passing wolf-whistling construction guys to get to you. Send those who do brave the elements a personalized thank you note for entering the demolition zone. Add a future discount coupon or appreciation offer for their return visit when things are back to normal.
Plan new routes to your door. If the access roads have detours or there is a better way to find you, let the customers know. Draw a map, use signage to point the way. Play a little game of "Who can find the door?" Tape cut-out construction paper footprints on the sidewalk leading to your temporary entrance. Use ladders, paint cans, hammers, construction zone tape and road signs in your windows displays if they are still visible to passersby. If not, put up billboards or posters that say, "We're still in here – come see! Just follow the signs." Use email and Facebook to direct.
Join other merchants in helping each other. Put info on Facebook, Instagram, Twitter to l keep customers aware of what's happening. Plan events that will direct shoppers from one store to another. This is a great time for a Scavenger Hunt that requires buyers to have their card validated at each location before dropping it in to enter a giveaway contest. Have a back door party in the alley and serve refreshments. Hire someone to be the guide, leading customers to your temporary entrances. They could be sort of like a Wal-mart greeter (but better dressed) – welcoming customers, telling them about today's values and then assisting in carrying their purchases back to the car.
Keep everyone that could be affected posted on your problems. Vendors will understand if warned in advance. They want to protect your business for the future so if you have to cut back on orders or delay shipments they should understand. If they don't, I think I would reconsider that supplier relationship.
Delivery people need to know where and when they can bring in your shipments. Your local bank should be well aware of the problems, but talk to them anyway. Ask for a little extra time on that note payment. They live there, too. Most will gladly co-operate – but only if you ask.
Enlist all merchants to participate in the "Excuse Our Mess" campaign. Make joint purchases of shopping bags featuring construction logos and purchase ad spots as a group. Don't forget to take pictures of the before, the after and of course, the during, to use on bulletin boards, Facebook, email and in advertising.
Promotions can involve everything from discounts for wearing a construction hard hat to guessing the number of days the door will be blocked. John Buster of the D & J Store in Guymon, Oklahoma took full advantage of a similar problem in his community a few years back. When the sidewalk outside his family-owned department store was broken up for replacement, he recovered big chunks of the concrete, spray painted them gold and sold "Pieces of Guymon's History" for only $25.00 with an official certificate of authenticity attached. (And people bought all of them!)
Turn your troubles into fun, and under no circumstances do you ever complain to customers about your inconvenience. The construction is probably being done in the name of civic beautification or community renovation, so put a smile on your face and be proud, because progress usually means profits.
Slap that hardhat on your head and begin to construct your own blueprint to meet the challenge.