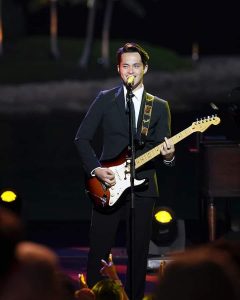 This time when Laine Hardy headed to Hollywood he had a new found courage, a confidence instilled, and a trained fine-tuned voice. He was as ready as he would ever be to tackle the job of winning American Idol Season 17. The thoughts of the last time were still digging into him, and he was elated for the opportunity to show everyone he could do it. As Luke Bryan said before, he better be careful, he could win American Idol, this time.
With a talent far above those in the first rounds, Laine breezed through the preliminary Hollywood sessions with "She Talks to Angels," the song which made me sit up and take notice of this young boy in the pink shirt, cap and the voice of an angel himself.  Then he shared "Grenade" as a group song with three others dubbed the Diamond Dixie. Katie and Lacey were with Colby and Laine – Colby in his cowboy hat and Laine in that always-present mersh cap. The act was okay, but nothing to write home about, as Colby was cut and the other three moved forward.  Still, it was clear, Laine was the star of the group and the one to watch.
In the Hollywood Round, the judges got their first peek at what the Bayou Boy was, underneath all that boyish charm and sheepish grin. Finally, they saw the real look of a handsome young man, minus cap with black hair shining, moving as he shook his head to the lyrics of Proud Mary. Katy's immediate response, "You had all that hair this whole time? You been looking like Elvis all this time!" And she was right.  Before her, blasting out Credence Clearwater's Proud Mary, was a potential young idol – not just American Idol, but a young singer destined for the top!
With the torn-jeans and tee-shirts gone, the cap tucked away, the real Laine Hardy stepped forward to blow the doors open on the first Showcase Round on the stage in Hawaii. The first job at hand was a shopping trip with his Mom, Cindy where she managed to get him out of those camouflage rubber boots, and into a pair of nice men's shoes. When asked if he thought they were ok, his answer was yes, but he needed good slacks, nice shirt, suit and tie. He already had a fashion formula for earning his way to the next round of American Idol. The boy was becoming a young man.
Laine said, "When I wear a suit to church I feel good, maybe if I wear a And he was so right. Katy, already in dismay over the newly discovered hair, excitedly cried out, "Who are you?" when Laine came on the stage to sing the Beatles, Come Together. The suit was new but the song was an old familiar one for Laine, who had been singing it all over the South in his recent concerts.
As I wrote at the beginning of this series, this was perhaps the real moment that I, like most women in America, fell in love with Laine Hardy.  He had gorgeous black hair parted slightly to the side, eyes that sparkled like diamonds, and a smile that spread across his beautiful face and his lip slightly curled in a knowing way. Yes, he was sexy, but he was more  innocence, sweetness, sunshine, happiness, sugar and spice, everything nice, and the best things of life, all in one package.
The voting had still not begun, the contestants not completely chosen, the songs not listed, but across America in the hearts of women from 12 to 100, Laine Hardy had won already!
Come back next week – Next chapter #5 – The Contest Really Begins – Top 40
.