I was nervous all day – excited, scared, hopeful, and even sad. I didn't want it to end, but the time had arrived and it was finale night of the 2019 American Idol season. The three remaining contestantss were Madison, Alejandro, and Louisiana's own Laine.
He had to perform three times in judging and chose three very different songs to display his talents. I was leery of first choice as he took the stage with platinum artist, John Pardi on the song, Dirt on my Boots, with both men on guitar side by side. Laine in a royal blue vest and John in a coat and cowboy hat, didn't seem to blend as a duo until they took off the guitars and really got into Nightshift. Laine was smiling and moving around more than usual. The number ended in almost a big brotherly bear hug as John left Laine on the stage for the judges' comments.
The three contestants each performed and did very well, and the viewers got to see the homecoming visits to Laine's Louisiana, Alejandro's California and Madison's New York. Each included parades, concerts, family, school, and friends applauding their favorite idol coming home, but none seemed as warm and genuine as the love Livingston and Louisiana bestowed on Laine.
I was only concentrating on Laine's travels and by the time he arrived at his home with his Maw Maw and his nieces, I too had begun to have tears running down my face. Seeing him at the dinner table enveloped in his mother's arms was a little more than I could handle and the boo-who's began. His entire family – those little girls, it was all such a blessing. He had truly missed being with them.
The crowds in Livingston were unbelievable. Larry and I had talked about going that afternoon, it's only about a 40 minute drive. But we realized the traffic and the number of fans would be tremendous. I could just see this 74 year old woman pushing my way through a mass of folks to get a glimpse of this young man. But, I was sorry I didn't go, I would've loved to have had the experience, but when I spoke to younger friends who had the three hour traffic delays, I knew we had been wise.
One of my favorite parts of the homecoming scenes was Laine's visit with John Bel and Donna at the governor's mansion. It was obvious it was early morning, yet there were several young girls and a mixed crowd waiting to greet him as his limo pulled in. What a thrill to start the day with the governor saying, "Party with a Hardy," expressing Louisiana's pride in our naïve son.
Laine used that pride in the selection of his second song, Hank Williams' Jambalaya – On the Bayou, a tune that couldn't be more appropriate to show his folks at home that he still was their Laine, their homeboy who wears baseball caps and walks barefooted through the sands, the grass, the rocks, the gravel or the marsh. This time he had on shoes with his golden print jacket with black lapels. But he seemed looser, freer: the word may be… happier, as he sang those familiar verses with a broad smile, licking his lips. He glanced proudly from side to side at the talented guitar men accompanying him, and again broadened that smile.
"Jambalaya, crawfish pie, filet gumbo, tonight I'm gonna…" win American Idol? I think he may have known at that moment in time. He seemed so relaxed and into his music as he hit that last chord.
Katy started with, "This whole time I wanted Luke to take me fishing. Not any more, I want you to. It looks like y'all have so much fun down there. Please take me with you." He nodded, "Yes mam'."
Lionel was thinking more business-like, "We got to get this boy a trademark lawyer. There's Bayou Boy and Party with a Hardy. You are ready for the big-time when the governor of your state says, Party with the Hardy.
Luke added, "Great song. Way to show the people back home you're still you."
Time was passing, the end seemed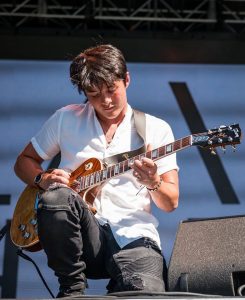 near, and Laine had to go change clothes again, and prepare for the announcement of the two finalists. Would he be singing for the last time?
Chapter #10 – Three Becomes Two and One Last Time to Vote!